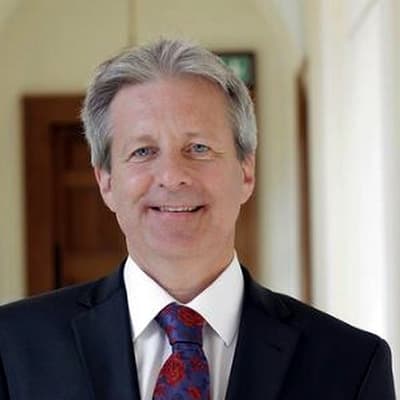 CEO uses farewell speech to defend local government capacity
THE outgoing chief executive of Devon County Council says local authorities should be given more powers.
Dr. Phil Norrey is retiring after more than 16 years at the helm, making him the longest-serving chief executive in the council's history.
Addressing members for the last time at a full council meeting, Dr Norrey predicted that despite the current 'state of flux' local government will resume its 'just and proper place in the Commonwealth from this country".
His departure comes as negotiations continue between the government and Devon councils – including Torbay and Plymouth – to secure greater powers from Westminster.
Chief John Hart (Conservative, Bickleigh and Wembury) gave an update on the talks at the meeting, saying a 'Greater South West' partnership could be formed involving the councils of Devon, Cornwall, Somerset and Dorset.
An exploratory meeting will take place next week, but Cllr Hart suggested the government was still interested in devolved offers to bring in new regional mayors – which Devon flatly rejected.
Discussing how local politicians should be given more power, Dr Norrey added: "I strongly believe that people should determine what happens to their communities, how resources are allocated, what are the priorities with a mandate given to them by the local electorate."
"And in fact, the role of central government in this country since World War II has been to aggregate power to itself and that process really needs to change.
"The world has changed, it's much more dynamic now, and all politics is ultimately local, isn't it?"
"But what I do know is that when that day comes; the culture, the foundation of this place will enable Devon County Council to really benefit from it and be the true leader that it deserves to be. He's a leader but his hands are tied behind his back at the moment.
He urged listeners in positions nationally to "liberate people in local democratic positions and allow them to make choices…because, to be honest, that hasn't gone down very well. worked to do the reverse, didn't it? »
"This is not a party political point. I'm talking about decades here, that central government doesn't know any better, makes mistakes, duplicates, over-complicates, and doesn't necessarily connect in the same way that local government does. You [councillors] have a direct connection!'
Dr Norrey described his time at the County Hall as a 'privilege and a pleasure' at what he believed to be his 100th full council meeting as a senior officer.
"Hopefully I'll retire 100 paces," he joked. "Some of you might think he retired injured, but I don't feel hurt at all. It was a very enjoyable round. There were a few bouts of stroke play, but he took a lot of solid defense, especially in the last few years.
Among the many advisers to pay tribute was Cllr Hart, who served as chief for 13 years – working closely with Dr Norrey throughout.
"The last 13 years have been exemplary for me, because not only has this advice worked very well, but it has been [due to] your help to me and the advisers.
"All councilors owe you a lot, for your help, persistence, reliability, knowledge and support – locally and nationally," he added.
Dr. Norrey is retiring at the end of August. Former county attorney Jan Spicer (née Shadbolt) will become acting chief executive until a permanent replacement is named.