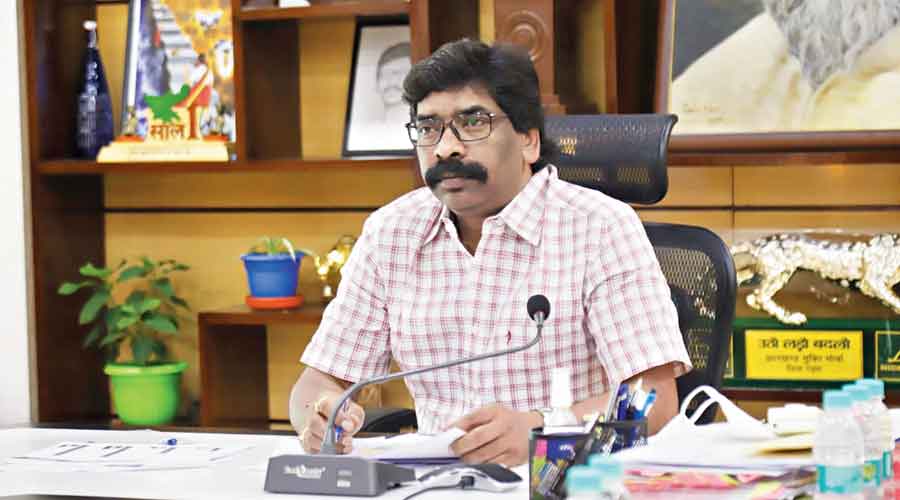 Hemant Soren accuses central government of "neglect" and "looting"
On the state's awareness campaign, the CM said that 2.5 lakh complaints have been registered statewide so far and almost 2.20 lakh have been dealt with.
---
|

Jamshedpur

|
Posted 12.12.21, 01:06 AM
---
Jharkhand Chief Minister Hemant Soren on Saturday accused the BJP-led central government of neglecting the state's cause even though it provided the country with medical oxygen during the Covid-19 pandemic.
Addressing an event at Gandhi Maidan in Hazaribagh in the Northern Division of Chotanagpur as part of the Apke Adhikar, Apki Sarkar, Apke Dwar campaign on Saturday, Hemant said: "We have provided liquid medical oxygen by train. , route and flights to various states during the Covid-19 crisis, but the Center has neglected our requests for financial support during the pandemic. "
In a tweet published in June this year by the Chief Minister's office, it was shown that Jharkhand led the country in the supply of liquid medical oxygen, contributing 35% of the demand.
During an event in Daltonganj on Friday, the chief minister accused the center of only being interested in the looting of mineral resources in Jharkhand.
"The state's coal blocks were auctioned off amid the pandemic, despite our government's requests to postpone the process until the situation returned to normal, as this would have attracted more bidders. The Center was more concerned with allocating the coal blocks to some of its "favorite companies," "Soren said on Friday.
"The Center does not care about the development of Jharkhand. He intends to plunder the mineral resources of the State, "he added.
On the state's awareness campaign, Hemant said that 2.5 lakh complaints have been registered statewide so far and almost 2.20 lakh have been processed.
The campaign, which began on November 16, will run until December 28.
Sensing some of the youth's agitation over unemployment in the state, Soren said, "The rules for recruiting have been set and vacancies for all departments are being prepared. Soon there will be massive government recruitment. I would also ask young people to take advantage of government self employment programs by taking out loans ranging from Rs 50,000 to Rs 25 lakh at very low interest rates.
The chief minister said the state government generates employment opportunities by forcing all private industries to open units in the state to reserve 75% of jobs for residents and award jobs up to 1 crore. from Rs to local residents.
Hemant also announced the establishment of a commission to examine displacement issues in the state.
The chief minister said the government was also working on a health program in which anyone with an income of Rs 8 lakh per year and suffering from a serious illness would get direct treatment.
The chief minister distributed assets worth 22.30 crore rupees among 2592,856 beneficiaries in various districts of the North Chotanagpur division.