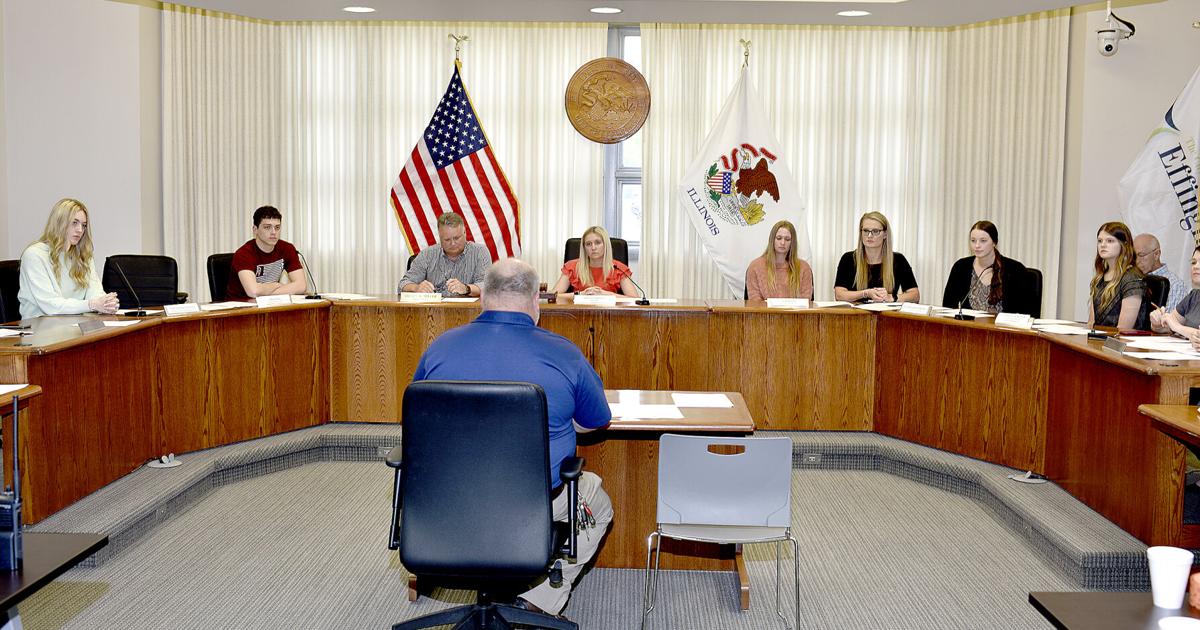 Law Day: Students Explore Municipal Government | Local News
EFFINGHAM — A group of high school students from St. Anthony and Effingham learned how the town operates on Thursday for the 65th annual Elks Lodge National Law Day, capping the day with a mock Effingham Town Council meeting.
Students toured the water treatment plant to learn how water is treated and distributed throughout Effingham, toured the town's sewage treatment plant, Effingham Fire Department and visited Accuracy Firearms, allowing students to fire a 9mm pistol and long rifle under the supervision of Effingham Police. Department.
Students from SAHS and EHS met secondary school students from Altamont, Dieterich and Teutopolis at Effingham Elks Lodge 1016 on South Banker in Effingham for a group lunch provided by the lodge.
A special program took place led by Effingham Elks Lodge 1016 Exalted Ruler Jacob Cowger. Effingham County Sheriff Paul Kuhns was the guest speaker at the luncheon.
Effingham Town Administrator Steve Miller read a proclamation at the luncheon of Mayor Mike Schutzbach and Effingham City Council declaring Effingham National Moose Law Day on Thursday. Miller then handed the document to St. Anthony student Allison Repking, who will later act as mayor for a mock city council meeting in Effingham City Council Chambers.
Students participating in the mock city council meeting were given an agenda to follow with eight action points to vote on, along with some talking points.
The mock council's first action item was to consider an ordinance that would have rezoned a block into a general commercial residential area.
"You have to decide if you want to allow a commercial development in a residential area," Miller told the students.
A concerned citizen expresses his opposition to a zoning change.
Repking then asked the commissioners if there were any questions or comments before calling a vote.
"I recommend that you don't approve it because it could be a point area," said acting city attorney Tori Budde.
Miller informed the mock council that the plan commission's vote on the zoning proposal was split.
Acting Commissioner Alexis Chrappa moved a motion to deny the request, which was seconded by Acting Commissioner Chloe Bushue. The rezoning request was unanimously rejected.
After the mock meeting, Repking said she never really knew what happened at a city council meeting.
"Being at the center of it today gives me the full view. I can see every little thing that's going on," she said.
Repking said the experience motivated her to attend a real board meeting in the future.
"I really want to see it in real time," she said.
St. Anthony High School student Kyandra Zerrusen, who acted as police chief at the meeting, said the experience was eye-opening.
"I think it's been a really good experience to see how things are done because you learn about it in class," she said. "Having the one-on-one experience with city officials really opens your eyes to the whole world of government."
The students participating in the city's 65th Annual National Moose Law Day were:
St. Anthony Secondary School – Alyssa Wolff, Laura Schmidt, Sophia Seagle, Allison Repking and Kyandra Zerrusen.
Effingham High School – Tori Budde, Lindsey Lohman, Erik Sills, Alexis Chrappa, Chloe Bushue, Ethan Ritz, Ron Smith, Brandon Duncan, Draven Albert and Orion Gordon.