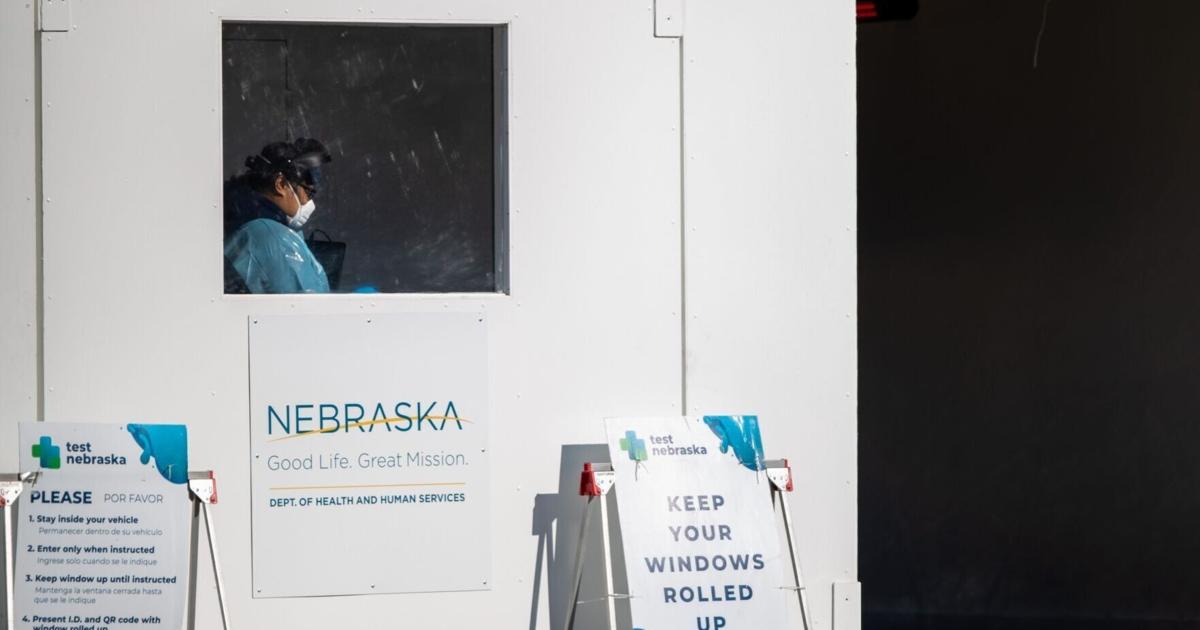 Nebraska auditor finds issues with Nomi Health TestNebraska contract | Regional government
Nebraska's state auditor found reason to question whether the state had received nearly 400,000 COVID-19 tests promised in a contract with the Utah-based company that operated TestNebraska.
The testing issue was just one issue Nebraska's public auditor found with the state's TestNebraska contract with Nomi Health in its financial statement audit, according to a management letter released Wednesday.
By November, state agencies had signed at least five untendered contracts with Nomi Health, worth a total of more than $69 million. The auditor's findings related to the first of those contracts, for the effort to provide free COVID-19 testing statewide, known as TestNebraska.
The auditor noted issues with providing supporting documentation and maintaining clear and unambiguous contract language — two issues that can increase the risk of loss or misappropriation of funds, according to the letter.
The contract, signed on April 21, 2020, stipulated that Nebraska would receive 1.2 million test kits, according to the letter. But the Department of Administrative Services, which handles state contracts, had no documentation proving the state had received more than 803,000.
He had a list showing that 1.23 million kits had been received, but it was not possible to trace supporting documents, such as receipts, according to the letter. This led the auditor to wonder if the state had indeed obtained nearly 397,000 kits, worth between $9.9 and $12.9 million.
And, the letter says, the auditor was unable to verify that all tests were received by the dates specified in the contract.
In its response, DAS said it provided documentation showing that the test kits required by the contract had been shipped.
"DAS's own records indicate that there was a lack of packing slip documentation kept during the pandemic, particularly in the early months of June, July and August 2020, however, such test kits have been received," it read. "Department of Health and Human Services (DHHS) records show testing was administered at TestNebraska sites during those months."
TestNebraska supplier says it has performed more than a million COVID-19 tests
Nebraska awarded $69 million in no-tender contracts to Utah firm amid COVID
He provided the number of tests performed according to lab records and a warehouse inventory count, saying these show the state received at least 995,900 kits. DAS said Nomi provided documentation that supports over 1.2 million.
The department informed the teams receiving the kits of the documentation procedures and expectations, including filling out a form. However, DAS acknowledged that some did not meet these expectations.
"DAS will ensure that such a performance issue does not happen again in the next pandemic," he said.
Another issue: An October 2020 contract amendment required Nebraska to pay Nomi Health for "services it was asked to provide in association with collection sites." Those payments, the letter says, were "largely retroactive," for services already rendered. They totaled over $2.9 million.
And, it was unclear from the wording of that October amendment that there would be additional service and management fees, according to the letter, but those fees appeared on every fifth bill received by the state. months analyzed by the auditor.
"As a result, during this five-month period, the state paid Nomi $3,489,063 in direct costs and an additional $548,231 in management and service fees," the letter said.
Agreements to make retroactive payments are "often problematic," according to the letter, and could violate a provision of the state constitution that prohibits state and local governments from making additional payments for past service. In its response, the DAS insisted that it had not violated the state constitution.
"When the state accepted and used these essential services to respond to the pandemic, the state became legally responsible to compensate the contractor for these costs, whether under an oral contract, a contract implied or quasi-contract," reads the DAS response.
It is best practice that agreements be in writing, DAS wrote, but there was no disagreement between Nomi and DAS.
"DAS has procedures in place to ensure that deliverables are accurately tracked and documented, contracts are clearly stated and agreements are put in writing before payment becomes due," it read. "In these circumstances, there were gaps in performance following these procedures under the stress of a global emergency. DAS will endeavor to ensure that such shortcomings do not occur.
Nebraska's original contract with Nomi was worth around $27 million, but it went up to around $62 million. This contract ended on July 31, 2021.
Nomi Health will provide free mental health care to frontline healthcare workers in Nebraska
Utah lawyer sues Nebraska state epidemiologist in fight over public records regarding COVID-19 testing
In a statement, CEO and Founder Mark Newman said "Nomi Health delivered all COVID-19 tests under its contract with the State of Nebraska ahead of schedule." He also noted that the audit was critical of DAS's record keeping and that Nomi himself was not the subject of the audit. He highlighted DAS's response to the audit.
"In the state's own words: 'all test kits required under the contract have been shipped', 'the contract has been fulfilled' and 'there was no breach'. All that is beyond that is invalid," Newman said. "We are honored to help fuel one of the nation's leading COVID responses in Nebraska."
Gov. Pete Ricketts and others praised TestNebraska for its role in helping the state double its testing early in the pandemic as other states struggled. But the practice of signing no-bid contracts with Nomi has drawn criticism in Nebraska and elsewhere. Four Nebraska state lawmakers have called on the state to void its original contract.
Newman has previously said that Nomi is not looking for no-bid deals but serves as a last stop in an emergency.
In other Nebraska contracts, Nomi has committed to providing staff for COVID-19 testing and vaccination sites, providing COVID-19 vaccine planning services, providing nursing staff to Central Nebraska Veterans 'Home and run a call center to help hospitals find beds for patients.
Prior to the call center contract, Nomi donated $20,000 to the Nebraska Republican Party. A Ricketts spokesperson said the donation did not influence the state's work with Nomi.
In 2021, state financial disclosure records show the company also donated $5,000 each to GOP gubernatorial candidates Jim Pillen and state Senator Brett Lindstrom. He donated an additional $10,000 to Pillen, who then won the nomination on May 2.
Nomi Health repays medical debts for dozens of Nebraskans
8 charts that show how Lincoln and Nebraska are coping with COVID-19
Lancaster County COVID-19 Deaths
Lincoln Hospital bed occupancy
Nebraska Critical Care Capacity, By County
Nebraska Hospital Capacity, By County
Nebraska COVID-19 Vaccine Distribution
COVID-19 vaccination rates: How Nebraska compares
Nebraska COVID-19 hospitalizations and intensive care utilization
COVID-19 testing in Nebraska