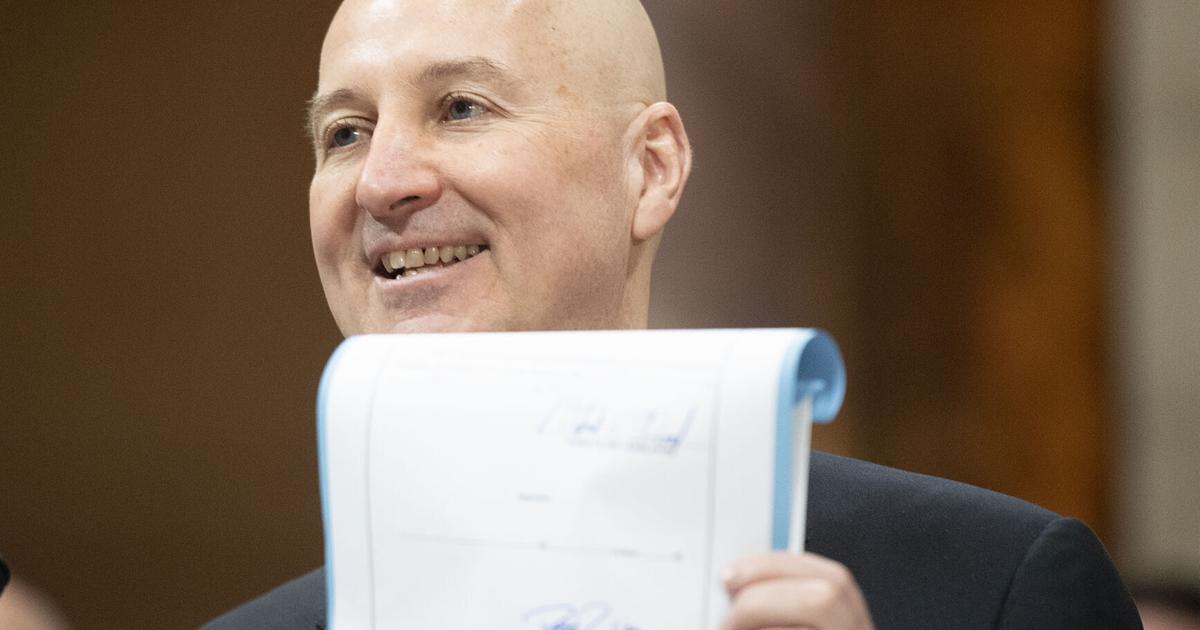 Ricketts and others hail major tax cuts as historic and transformative | Regional government
Governor Pete Ricketts celebrated the signing into law of the largest tax cuts in Nebraska history on Wednesday with an elaborate ceremony in the Capitol rotunda, where he signed the bill with applauding state senators and leaders business and agriculture alongside him.
Ricketts called the moment historic, and President Mike Hilgers of Lincoln said the tax cut program offered an opportunity "to have a transformative impact" on the state's near-term future.
Constitutional gun rights bill snared by filibuster
Don Walton: Failed prison sentence reform marks 2022 legislature
The $900 Million Tax Reduction Bill (LB873) provides a targeted personal and corporate income tax reduction by reducing the top tax rates for individuals and corporations, generates additional property tax relief through new state income tax credits based on property taxes paid by community colleges and phase out state income taxation of benefits social Security.
The stage was set for substantial tax relief when "Nebraska came through the (coronavirus) pandemic very strong," Ricketts said, and the economic growth that followed helped fuel more than $1 billion in increases. revenue during the biennium that exceeds state budget requirements.
"We need to give that money back to the people of Nebraska," the governor said.
Ricketts singled out members of the Legislative Revenues Committee who crafted the package, paying particular attention to Senator Lou Ann Linehan of Elkhorn, the committee chair, who led the way in crafting the package. the final proposal despite sometimes intense negotiations.
The governor praised Linehan for "his excellent work".
Hilgers said Linehan "will go down (in Nebraska history) as one of the great lawmakers."
In turn, Linehan said, "I want to thank everyone for not giving up."
Absent from the ceremony was one of the main architects of the compromise plan, Senator Tom Briese of Albion, who was attending the funeral of his nephew, Elwood Volunteer Fire Chief Darren Krull, who died in a road frontal. accident while responding to a fire in central Nebraska.
Dozens of senators and major supporters of the proposal attended the ceremony and received signed copies of the governor's bill.
Bryan Slone of Omaha, president of the Nebraska Chamber of Commerce, said the state's performance during the pandemic and the Legislature's fiscal discipline "got us to where we are today."
"I believe we were the number one state in terms of coming out of the pandemic," he said.
Central City's Mark McHargue, president of the Nebraska Farm Bureau, hailed the successful enactment of the tax package as "a team effort."
Don Walton: Huge tax cuts increase need for economic growth
Don Walton: Fortenberry's resignation is personally tragic, politically complicated
Top photos from the Journal Star of the month of April